CVPR 2021 Report Identifies 5 Trend Areas  
The Top Computer Vision and Pattern Recognition Conference
IEEE Computer Society Team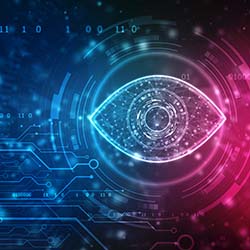 Claim Your Exclusive Member Access
Increased demand for artificial intelligence and machine learning technologies continue to propel CVPR into a prestigious conference known for its technical contributions in these areas. This year CVPR presented 1,600 papers over 12 sessions from more than 7,000 submissions. Of the papers presented, 140 were considered for awards.
This growth is impacting research. CVPR trends are an indicator of hot topics for the artificial intelligence and machine learning community. Log in at the bottom of this page and download the CVPR 2021 report to discover the five important subject areas identified during this year's conference.
---
Conference Highlights
Awards
One of the highlights of CVPR is the awards program. Research is recognized through the Best Paper awards.
Best Paper
"GIRAFFE: Representing Scenes as Compositional Generative Neural Feature Fields"
Michael Niemeyer, Andreas Geiger
Best Student Paper
"Task Programming: Learning Data Efficient Behavior Representations"
Jennifer J. Sun, Ann Kennedy, Eric Zhan, David J. Anderson, Yisong Yue, Pietro Perona
29 Tutorials:
70+ Workshops
More than 70 workshops were held showcasing research, discoveries, and how computer vision is being applied in industry. View full list of workshops and presentations.
Student Networking:
33 presentations spread over three sessions on topics including applying for graduate school, academia versus industry, tips on creating a startup, and more.
Doctoral Consortium:
An opportunity for students close to finishing their doctoral degree to be paired and interact with experienced researchers in computer vision.
About CVPR
CVPR is the premier annual computer vision event comprising the main conference and several co-located workshops and short courses. With its high quality and low cost, it provides an exceptional value for students, academics, and industry researchers.
Due to the continuing impact of the global pandemic, CVPR 2021 was held virtually. This decision was made with the priority of protecting all participants' safety and well-being. The organizers worked tirelessly to create a high-quality experience for the computer vision community to engage and exchange their latest research and ideas.
About IEEE Computer Society
The IEEE Computer Society is the world's premier home for computer science, engineering, and technology. A global leader in providing access to computer science research, analysis, and information, the IEEE Computer Society offers a comprehensive array of unmatched products, services, and opportunities for individuals at all stages of their professional careers. Known as the premier organization that empowers the people who drive technology, the IEEE Computer Society offers international conferences, peer-reviewed publications, a unique digital library, and training programs.
Recommended by IEEE Computer Society