Missed ICDE in Paris? Here Are Data Engineering Highlights of Award Winners, Presentations, and the Incomparable City of Light
By Michael Martinez and Lori Cameron
As a venue, it's hard to beat: The International Conference on Data Engineering 2018 met this month in the historical heart of Paris, gathering at Conservatoire National des Arts et Métiers, the public institution of higher learning for applied science and technology founded during the French Revolution.
ICDE is a leading forum for research issues in designing, building, managing and evaluating data-intensive systems and applications.
The 34th annual conference featured such keynote speakers as Margo I. Seltzer, the Herchel Smith Professor of Computer Science and the Faculty Director for the Center for Research on Computation and Society in Harvard's John A. Paulson School of Engineering and Applied Sciences; Michael Stonebraker, an adjunct professor at MIT and a recipient of the 2014 ACM Turing Award; and Philip A. Bernstein of Microsoft Research.
Here are some of its highlights culled from participants' social media posts. (Keep posting, all! We at the IEEE Computer Society are frequently re-posting and sharing, evidenced below):
How spectacular was the venue? Take a look at the reception (above photo). "Petit cocktail entre amis au musée du #cnam #icde2018. Huge venue in Paris," wrote François Tapissier on his Twitter handle @f_tapissier. (Translation: "Little cocktail with friends at the CNAM museum….")
Participants listen to a panel discussion on "What is AI 2.0? Is it More than Just Deep Learning?" moderated by C. Mohan (IBM Almaden Research Center). Panelists were Christopher Re (Stanford University), Jian Pei (Simon Fraser University & JD.com), Michael Stonebraker (MIT), and Jens Dittrich (Saarland University).
Marek Rusinkiewicz of the New Jersey Institute of Technology received the IEEE TCDE Service Award for leadership in making ICDE and the RIDE Workshops high-impact international venues. Rusinkiewicz was appointed Dean of the Ying Wu College of Computing in 2013, and served until his retirement in 2016. He is currently the Editor-in-Chief of the World Wide Web Journal.
Spyros Blanas, assistant professor in the Department of Computer Science and Engineering at The Ohio State University, received the IEEE TCDE Rising Star Award for contributions to database systems research and broadening the reach of data engineering research.
Jiannan Wang, assistant professor in the School of Computing Science at Simon Fraser University, received the IEEE TCDE Rising Star Award for contributions to human-in-the-loop data analytics.
Tim Kraska, MIT professor (pictured above), receives the VMWare Research Award, presented by Chris Ramming, Senior Director of VMWare Research & Innovation.
VMware's System Research Award highlights early career faculty who have made exceptional research contributions to one or more emerging areas of Computer Science, and who have achieved notable impact with their work.
Professor Kraska's university will receive a gift of US $100,000 in support of his research on data management systems.
Sihem Amer-Yahia, a CNRS Research Director, whose interests are at the intersection of large-scale data management and social data exploration, gives a keynote address about "Human Factors in Data Science."
The dreaded "Diarrhea of Papers" comes in third on MIT Adjunct Professor Michael Stonebraker's top ten list, "My Ten Fears about the Future of the DBMS Field."
The conference featured six keynote speakers: Margo Seltzer (Harvard), Michael Stonebraker (MIT), Jian Pei (Simon Fraser University), Matthew Rocklin (Anaconda), Philip Bernstein (Microsoft Research), and Sihem Amer-Yahia (CNRS, University Grenoble Alpes).
Naresh Agarwal, associate professor of Simmons School of Library and Information Science, gives invited talk "What do we mean when we talk about context?" at the 1st Workshop on Context in Analytics.
One of many beautiful sights conference attendees could see in Paris, the République Statue depicts a lady in heavy clothing, holding a branch in her hand. This lady is actually one of the major French symbols and her name is Marianne. (Photo credit: Mohan C. Mohan)
Photo op with conference speaker, Naresh Agarwal (second, left), and fellow attendees.
The breakfast spread~ (Photo credit: Mohan C. Mohan)
Following the Seine through Paris is a way of enjoying a thousand different escapades on the river, its bridges and islands. Daytime or nighttime, Left Bank or Right Bank, the buzz of activity along the quaysides mixes with the lapping of the waves. Here, conference guests enjoy the cocktail dinner cruise along the River Seine aboard "Le Paquebot."
---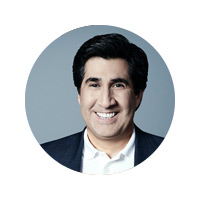 About Michael Martinez
Michael Martinez, the editor of the Computer Society's Computer.Org website and its social media, has covered technology as well as global events while on the staff at CNN, Tribune Co. (based at the Los Angeles Times), and the Washington Post. He welcomes email feedback, and you can also follow him on LinkedIn.